Blog: Predictive Maintenance Technologies Optimize Efficiencies, Safety, and Profitability

In manufacturing, we all know the importance of regular machine maintenance. Without consistent and timely maintenance, machines break down and require expensive repairs or replacements. To avoid these costs, most manufacturers practice preventive maintenance by tuning up equipment.
Businesses spend over 80% of their time reacting to issues instead of taking proactive measures to prevent them.
Between 2001 and 2011, of the almost 8,000 accidental chemical releases, half of these accidents were caused by equipment failures.
On the other hand, a more effecitve practice aiming to make machine maintenance less costly and more effective is predictive maintenance. Predictive maintenance through historical trends and smart automation predicts a machines failure by monitoring performance and its condition continually and automatically. Some of the capabilities of automated machine monitoring can include failure prevention, tracking of equipment inventory, scheduling, recording, tracking, and analyzing maintenance checks, safety management support, monitoring energy efficiency, and more.
An example of using predictive programming would be a standard conveyor with a motor and rotation monitor in use at a manufacturing facility. It is typical to see load increase and decrease with variances in loading from one moment to the next. These variances can be averaged to create a baseline. Now that the baseline is known, if the motor amperage trend is moving up slightly, along with a modest increase in rotation timing, this would equal a sustained increased load. The likely culprit of a sustained slight increase in load is a bearing in its beginning stages of failure or lack of lubrication. Left unattended, the sustained load will continue to increase until safety measures are reached (fusing or overloads) or catastrophic bearing/conveyor failure.
A long-term predictive maintenance program is a cost-efficient strategy. The main benefits of applying predictive maintenance include increased operational efficiency and functional performance which result in:
Reduced breakdowns
Minimized shutdowns
Lower maintenance (reduced labor overhead)
Decreased spare parts expenses
Increased productivity
Improved employee safety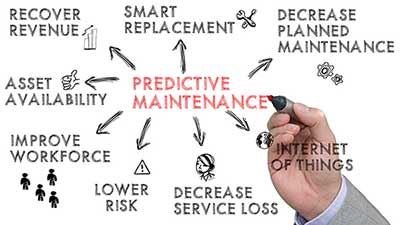 Predictive maintenance also has some benefits over other machine maintenance strategies such as capturing sensor data by monitoring equipment to determine its wear and efficiency in real-time. In comparison, regular maintenance is important, but it does not help in identifying internal problems. When monitoring equipment, smart automation uses tools for making predictions based on data collected and trends identified to determine when the equipment will need to be repaired or replaced.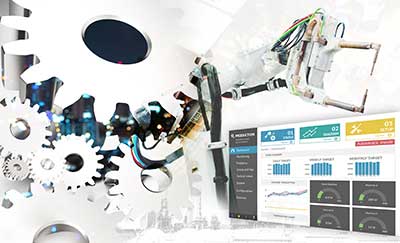 The early detection of problems and the prevention of failures increase machine service life by preventing serious damage to equipment and reducing the severity of damages. By estimating the time between failures with preventative maintenance, the manufacturer is able to choose the best cost-effective measure to replace a machine.
In summary, predictive maintenance is a smart strategy used by successful manufacturing operations. Its cost-effective benefits keep businesses more profitable and competitive.